---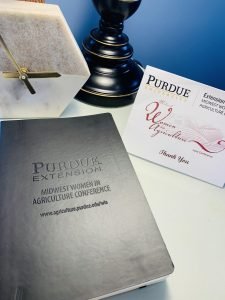 Next to meeting with farmers on farms, conferences are our favorite thing. Being involved in conversation and learning with growers and other decision-makers in ag—and doing it in-person—helps us keep tabs on what's going on and how we might be able to help.
Purdue Extension's Midwest Women in Agriculture conference was held February 19, 2020, in Muncie, Indiana. Kacee Bohle, a Regional Manager with Conservis (found on Twitter as @Conservis Kacee), attended the event last year and was very impressed. "I made so many great connections and gained knowledge in areas I did not realize I was lacking in," said Kacee. This year, Kacee didn't just attend—she was invited to speak. "I was elated," she said.
Kacee joined the Midwest Hemp Council and Purdue Extension to present on the topic of hemp. Hemp farming has been on the minds of many farmers and legislators in the past few years. States and programs have been experimenting with the plant since the passage of the 2014 Farm Bill, and farmers have had their antennae up about hemp since it was declared federally legal in the 2018 Farm Bill.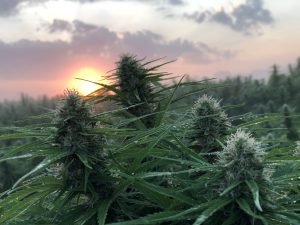 As farmers across the nation have struggled financially in recent years, crop diversification has become more of a topic of interest. But talk about specialty crops, hemp in particular, can make some uneasy. "When hemp comes up in a diversification conversation, sometimes people clam up. They feel unsure, like maybe it's not appropriate to talk about or they don't know what to say," said Kacee. Hemp and marijuana derive from the same plant genus, cannabis, which can be confusing and prevent people from learning and asking questions.
Hemp is indeed a "hot" topic—though no one wants their hemp crop to be hot (in the hemp world, hemp is "hot" when it exceeds the acceptable 0.3% THC levels). Though hemp can be controversial in the public opinion, many are interested and want to learn more. The goal of Kacee and her co-presenters in their session "Hemp as a New Crop" was to educate and inform interested parties. "Our goal this week was to teach attendees the history of the crop, the benefits industrial hemp could have for agriculture, and steps to take in order to grow hemp successfully," she said.
Jamie Campbell Petty, Executive Director of the Midwest Hemp Council, began the session with a big-picture overview. She discussed how the past year has been a learning curve for growers and those in the industry. She also expressed complete confidence in the potential of the crop. "I truly believe with my whole heart that industrial hemp will have a great long game," she said. "We're just feeling the growing pains right now." The Midwest Hemp Council's mission is to "stand as a credible information center, a trusted policy advocate, and a dedicated forum for the hemp industry in Indiana and beyond."
Marguerite Bolt, the Purdue Extension Hemp Specialist, spent time educating attendees on what Indiana has learned in the last several years with regard to the agronomics of hemp. In addition to discussing the insect and disease challenges, Bolt helped educate growers about NPK fertilizer options that can be applied both liquid and dry. "The last couple of years have allowed us to better direct potential growers and advise them on the ideal application rates as well," she said. "We're also getting a better idea of which varieties are preferred on our Midwest soil types and climate." Bolt's overall message? Their hemp research has yielded valuable data, and they're looking forward to continuing their work in order to better advise potential and current growers.
The hemp session attendees, around 30 in total, were very attentive and interactive. They asked lots of great questions. (No surprise here—farmers are some of the smartest people we know.) Some of the questions that sparked the most conversation were "How do we even get started growing this crop?" and "How will we know if we are going to make any money?", along with "How do we know if what we are doing is the best decision for our specific farm?".
Kacee ended the presentation by addressing the grower questions around the practicalities of trying hemp on their farms. She stepped in and talked about field recordkeeping. "Every grower has a different practice or technique when it comes to planting, harvesting, or drying. Every state has different rules and regulations. Every plant variety grows differently," she said.
The important takeaway she emphasized is this: if you're going to grow hemp, not only should you be educated on the crop and know where the markets are, but you also need to track everything you do and keep great records. "Anyone can put a plant in the ground," she said. "But if you're not keeping accurate records of things like variety type, cost analysis of growing indoor vs outdoor, fertilizer rates and brands, labor costs etc, how will you know what your cost of production is and if you are making any money?" Kacee educated growers about our easy-to-use planning and budgeting tools, as well as our system's recordkeeping and reporting capabilities. "It's so important to track and provide full traceability records," said Kacee, "so you know where your money is going, and so you can share your work with experts in the industry to ensure you're taking the right steps to produce a quality product."
It seems clear that smart growers should keep an eye on hemp. Perhaps a cautious eye, as with all new crop possibilities, but an eye nonetheless. There were an estimated 200 people in attendance at the conference, ranging in age from 18 to 70 and bringing a variety of agricultural backgrounds. No one who attended the hemp session was yet growing hemp, but after the session there was keen interest among the attendees in staying connected and continuing to learn more.
If you're a grower who's interested in the possibilities of hemp, here are some resources and people to connect with:
Interested in adding hemp to your operation, or want to learn more about how we can help you streamline and simplify your recordkeeping? We'd love to chat.