Dicamba drift is a hot topic in farm circles right now. Farmers we work with are telling us loud and clear that when it comes to dicamba compliance, they want to dot all the i's and cross all the t's.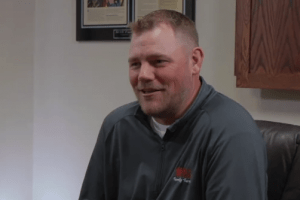 Kyle Mehmen, whose operation spans both Iowa and Minnesota, put it like this. "Restricted-use spray compliance is important to us, but I was concerned that my operators would have trouble with all the documentation. They have a certain routine in the field that they're used to. Plus, I have dicamba beans in two states so proper documentation gets even trickier."
So Kyle picked up the phone and called his Conservis team. "It's nice to have people who really know technology and really know me and my operation," he said. "My operators have a painless experience documenting compliance. That's a big relief." Read the MBS Family Farm case study.
We get it. More than ever before, farmers need complete, accurate and timely documentation, but they also need to get some work done, right?
Rest assured, our farm management software is uniquely designed to document compliance while keeping you productive in the field. We know your job is tending to crops, not paperwork.
Here's a top-line review of what our software service offers in response to today's tighter restrictions and regulations:
Accurate, time-stamped spray activity reports, including weather conditions and spray locations.
Two options to document wind speed and direction before and after spraying: either manual entry in tandem with your handheld anemometer or automatic entry that pulls the necessary weather data from nearby airports.
Easy entry of each applicator's name, training, and certification number into the system.
Reports on standalone tank cleanout and associated activities.
All critical data gets rolled into one comprehensive Crop Protection Report, which does just that: protects you and your operation should you face any regulatory audits or insurance claims.
Matt Backer, a Conservis senior product manager says, "Knowing that compliance is fully documented and easy to access is peace of mind for farmers. When they sleep better, we sleep better."
Here's to a better night's sleep knowing all your dicamba ducks are in a row with Conservis. Interested in seeing a grower perspective on how Conservis helps?
See How Conservis Helped Lone Star Family Farms